Career
How To Be A Dental Assistant With No Experience? Explained!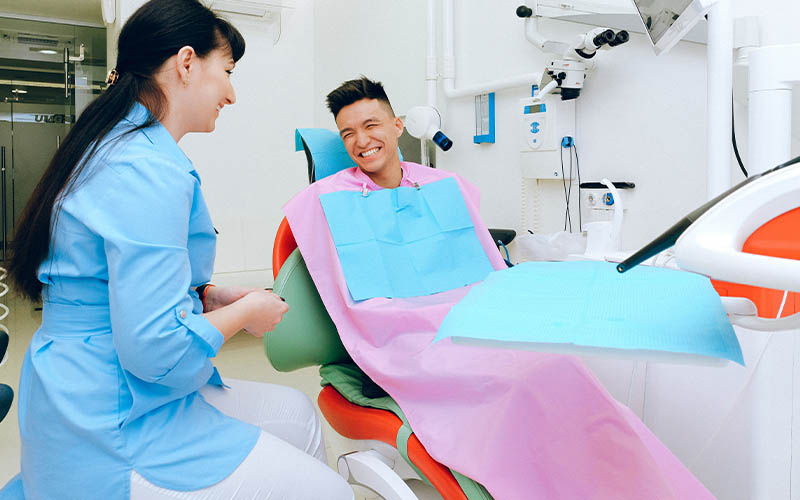 These days, experience has become a very valuable consideration to employers. Employers generally want to hire experienced dental assistants over non-experienced ones.
But it necessarily does not mean that without experience you will not be able to become a dental assistant. Many clinics and hospitals offer on-the-job training for workers with a high school degree. So, it can be a great way for starting your career pathway.
However, in this article, you will learn everything you need to know about how to be a dental assistant with no experience.
What Skills Do Dental Assistants Need?
Below, I have listed the top skills that dental assistants need.
Dental assistants need to spend quite a lot of time finishing their office work, for example, answering calls, organizing appointments, and many more. So, it is very important to manage time properly along with being attentive.
During any dental appointment, dental assistants usually communicate with the patient at first. For instance, they will let you know everything about your appointment, they might even ask patients about their medical history, and so on. So, it is very important to have good communication skills in order to give proper explanations or solutions to patients.
This job can require critical thinking. This is because, while you are helping a dentist you will need to predict their requirements and carry instruments accordingly. You will need to think and help the dentist. Besides, it is very crucial to be flexible and versatile.
Capability to follow commands
It is very important to pay attention to detail and be quick on following instructions. It is very easy to get preoccupied, but you need to make sure you concentrate on your work and be there whenever the dentist needs your help.
Good customer service skills
Communicating with patients is one of the basic duties of a dental assistant. The patients are more likely to come back to your workplace if you welcome them nicely and assist them whenever needed. It is because they will find your service appealing.
Great organizational skills
In order to work in this position, it is very important to keep record of all the appointments and information of the patients. So, it is necessary to have organizational skills, as the files of patients need to be filled appropriately.
Basic understanding of dental medicine
This position usually requires an associate degree or diploma in dental assisting. So it is very crucial to have a basic understanding of dental medicine in order to work in this position. This is because many patients may call you and ask for your advice on the basic treatments.
How Do You Get A Job As A Dental Assistant With No Experience?
I have given below some helpful tips that can help you get a job as a dental assistant with no experience.
Become certificated or licensed
Obtaining certification or license can be a great way to elevate your value in the eyes of employers. It can show them that you are skilled in this field. For your convenience, below I have provided a few certifications from which you can get any of your choices.
National Entry Level Dental Assistant (NELDA)
Certified Orthodontic Assistant (COA)
Certified Preventive Functions Dental Assistant (CPFDA)
Certified Restorative Functions Dental Assistant (CRFDA)
Try to do Externship
Externships let students do task at a dental clinic, thus helping them to understand the work of a dental assistant more effectively. Completing an externship means that the candidate is knowledgeable about this position. So, it can enhance your chances of getting employed.
Read More: How to fight fatigue at work? Effective ways
Try to do internship
Internships are generally designed to build experience, so you can do internship jobs even without experience. And the most interesting part is that once you complete your internship, you eventually become experienced. So, it can easily help you get your first job in dental assisting.
Build a good network
Networking is always a great way of getting jobs. There are several relevant groups online that you should join. You should try to communicate with dentists and everyone in this community, and let them know that you are looking for a job. It can be very helpful as they might refer you for a job.
Take preparation for interviews
There are many questions that are asked repeatedly in interviews. Try to prepare your answers for such common questions so that you can impress the employer. Nevertheless, to make your task easier, below I have listed some frequently asked questions to dental assistants.
Why have you chosen this career?
How are you going to explain the requirement for a dental process to a stubborn patient?
How do you take care of patient confidentiality?
Create an appealing resume
Add all your relevant information on the resume. For example, your relevant skills, educational qualifications, certifications, and so on. It can be a great way of impressing recruiters, hence getting a job.
What Qualities Make A Good Dental Assistant?
Well, to become a good dental assistant, it is very vital to be a good listener along with being compassionate. This is because such assistants need to hear the questions or issues of the patients properly.
Also, they need to make patients comfortable at their clinic. In addition, it is very important to have a strong work ethic along with being dedicated to the work. A dedicated dental assistant will always be considered as a good one.
Duties Of A Dental Assistant
There are various duties of a dental assistant that I have given below.
Scheduling and recording appointments
Taking X-rays
Providing advice on oral hygiene
Helping dentists in dental procedures
Sterilizing equipments
Providing assistance to customers
Frequently Asked Questions (FAQs)
Is being a dental assistant hard?
Answer: Being a dental assistant can be physically stressful. This is because it includes many uncomfortable positions in which the worker is supposed to stand. Moreover, it can be tiring sometimes.
Verdict
Nowadays, it is indeed difficult to find any job without experience. However, the pathway might be difficult but it is not an impossible thing.
Nevertheless, finding your first job as a dental assistant can be easier if you have a degree and certification. Besides, in this article, you have learned about every piece of information that can help you start your career. I hope you find this article very helpful.
Read More: How To Stay Motivated Every Day: 20 Effective Ways That You Should Follow