Career
How To Open A Restaurant With No Experience: The Proven Tricks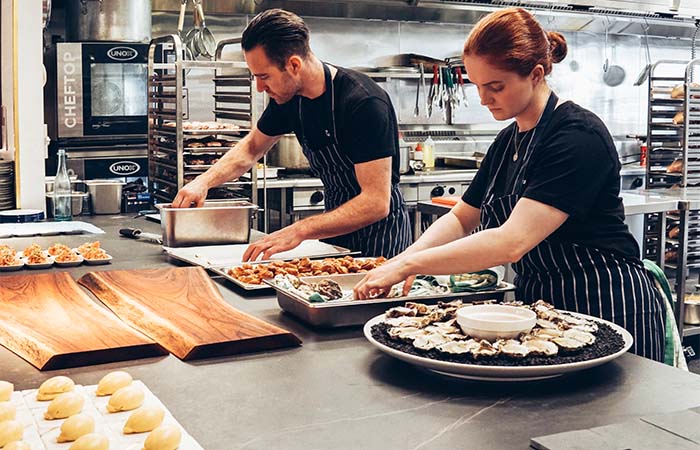 Thousands of people dream of owning a restaurant. Are you also one of them? Well, I understand that you must be frustrated about opening a restaurant with no experience, but you are not alone in feeling that way.
It is undeniably true that experience matters a lot while opening or running a business. It is needed in all aspects like management, marketing, customer service, and so on. Nevertheless, everything has a beginning, and so does your business.
However, to make your task easier, in this article I have provided all the tips and techniques that can help you start your restaurant successfully.
Do Most Restaurants Fail?
Well, running a restaurant requires quite a lot of hard work, for instance, acquiring raw materials and equipment, handling promotion, determining prices, and so on.
And all of these can seem even harder during the first year, as the lack of experience will result in indecisiveness and haste. Thus, most restaurants fail in their opening year.
According to studies, 60% of restaurants deteriorate in their opening year, also more than 80% can not last for more than five years. However, the restaurants that can manage to survive in the market can become quite successful. 
How To Start A Restaurant With Zero Experience?
One of the frequently asked questions is, "How do I start a restaurant with no experience?" Well, to start a restaurant, all you need to do is follow a few basic steps. For your convenience, I have listed them below.
Determine your funding options
To start a restaurant, you first need to determine your funding options. You need to find out whether you have enough capital to start your business.
If you do not have enough financial ability, you need to consider taking out a loan or partnering with anyone. I will advise you to partner with someone who is experienced in this field, as it can help you manage your restaurant. 
Research details on initiating a restaurant
You should increase your consciousness of how to open and run a restaurant. You should be completely involved in every aspect of your investment without being fully dependent on your workers.
Therefore, you should gain as much knowledge as possible. You can attain knowledge by attending seminars, reading books, communicating with restaurant owners, and so on. 
Select your desired type of restaurant 
Choosing the type of restaurant is very important. There are different types of restaurants, for instance, fast food eateries, fine dining restaurants, cafes, and many more.
You should choose the most highly demanded restaurant in the location where you want to open your restaurant. It is because your business will be successful only when you are able to provide the food service demanded by the people in a particular area. 
While hiring workers, make sure you are hiring the right people. Try to hire skilled workers. Not only do you need a proficient chef for running this business, but you also need workers with other skills like good customer service skills, serving skills, inventory management skills, marketing skills, equipment maintenance skills, and many more.
Employing the right people will help you run your business efficiently.
It is very important to make a business plan when starting a restaurant. The plan should include a SWOT (Strengths, Weaknesses, Opportunities, and Threats) inspection, marketing strategies, pricing, and cost assessments, and competitive project research. It will help you run your business more smoothly.
Remain passionate and committed 
Running a business is all about facing challenges, but it is very vital to stay passionate and committed through thick and thin. You should always have a positive attitude towards work and be dedicated. With such energy, you are most likely to become very successful in your business. 
What Problems Do Restaurant Owners Face?
There are many problems that restaurant owners face. However, the key problems include:
Handling inflation and increasing food costs

Finding and employing skilled workers

Managing growing functional costs

Reaching more customers 

Internal thefts 

Adapting to changing customer preferences 
How Do You Open A Small Restaurant?
Opening a small restaurant usually requires less capital or investment. However, to open a small restaurant, you will need to select the right location along with planning the dining room.
But the most important thing is to build a business plan. Besides, it is very crucial to promote your restaurant in order to increase sales. 
Although a small restaurant will require fewer workers, ensure that you are hiring the right people even if the quantity is less. 
Frequently Asked Questions (FAQs)
Are restaurants a risky business?
Answer: Yes, restaurants are a risky business. The rate of failure in this field is quite high for the first five years, entitling them to risky investments.
Can a small restaurant make money?
Answer: Yes, small restaurants can make money. However, the profit margins of restaurants are considerably lower.
Verdict
Opening and running a restaurant is not an easy task. It takes a lot of effort to run such a business. Nevertheless, do not expect to become successful within the first year of starting your business.
It will take time to establish your first restaurant. And in this article, you have explored everything you need to know to start a restaurant. I hope you find all this information helpful.
Read More:
Importance Of Education In Business: How Important It Is To Be A Successful Businessman
Why Success Takes Time? Is It True That Overnight Success Usually Takes 10 Years?