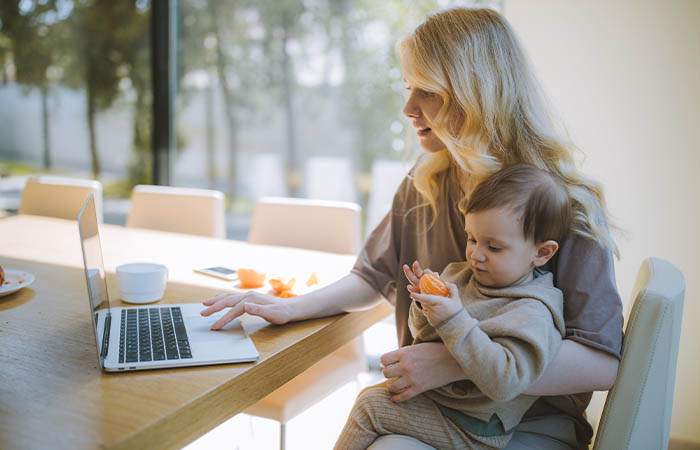 The ability to distribute time properly to be efficient and successful is called time management skills. The busier the person is, the better time management skill he/she needs.
Working moms often lead a very busy life maintaining both home and office. However, as a working mom, time management is mandatory for you. If time is not managed properly, the whole family might be hampered.
Time management tips for working moms are discussed below.
Why is time management important for moms?
Time management is a great skill. Moms play the most vital role in the family. So, time management skills for moms are a must. The importance of time management skills for moms are:
You can do more work in less time by the application of proper time management skills.
You can ensure a balanced life with proper time management. As well as family members get more time together.
With proper time management, parental stress can be immensely reduced.
Greater focus on any task is gained through proper time management skills in moms.
Proper time management can gift moms enjoyable and prolonged leisure.
Productivity in mothers can be increased by time management skills.
Less distraction in moms is an excellent outcome of time management skills.
You can give more time according to work priority.
Improved performance in moms can be gained through proper time management skills.
Time management skills can boost motherly confidence.
As a mom, you can easily complete their work on time and the least chances of accidental failure can be ensured.
These are the benefits of time management skills in moms. The benefits of time management skills are immense. Especially for mothers, it is very necessary to know this skill.
Time management for moms at home
Moms must know how to manage their time at home. It will increase your productivity and the family balance will increase. You can maintain time inside a home in the following ways:
Plan your day:
You must plan your day. If required, you should use notebooks to write down the necessary work you must do on that day. If the works are placed properly in the clock, you can make a lot of free time out of it.
Planning week:
Every mom has tasks that they need to do once a week. For example, cleaning fans. Cleaning up your fans every day is not necessary. You can keep plans for completing these tasks on free days. Plans for weekly tasks must be done.
Get enough sleep:
You must get enough sleep to maintain a proper timetable. Hence, you must work with enthusiasm and effectiveness to complete the task in the planned time. So good sleep is a must to maintain proper time management.
Prioritise task:
Moms must know how to prioritize their work. You must divide work based on your necessity. If work is done according to priority, the important tasks are always finished first.
Remove distraction:
Mothers suffer from various distractions. For example, the most common distraction for you these days can be social media. Often moms spend a lot of time on social media. This type of distraction must be limited.
Learn Multi-tasking:
Multi-tasking is very important for mothers. As the chief juggler of the family and maintaining the home, you must multitask. Doing more than one work at a time can help in time management.
Identify time-wasters:
Moms face a lot of time-wasting things every day. It can start from unnecessary social media scrolling and end up maintaining courtesy with a chatty neighbor. You must avoid wasting time.
Involving kids in household chores:
You can train your kids and involve them in various tasks like cleaning, cooking, laundry, etc. It will save a lot of time.
Following the mentioned methods, you can save a lot of time inside the home. It will provide you with a healthier life, as well as the family members will be benefitted.
15 time management tips for working moms
Working moms have to maintain their homes, family members, household chores, etc. Again, you have to attend your workplace. Time management is most necessary for working mothers.
Here are 15 tips for working moms, using which they can manage their time easily.
1. Stay fit:
Fitness is a must for any working mom. If you are not fit, you won't be able to maintain both office and home. So, you must remain fit and energetic throughout the day.
2. Maintain bedtime:
Working moms often receive official calls at night. This disturbs the balance in their home. To ensure good sleep, you must fix a bedtime and stick to it. If necessary, you can inform your office about call times.
3. Share responsibilities with your partner:
It is optional that all the household chores must be done by the mother. You can seek your partner's support to manage household work. For example, you can ask your partner to assist them in cleaning or doing dishes.
4. Fix a schedule for kids:
A mother must give their kids a certain amount of time. No matter how busy you remain, you are bound to do it. So, it is always better to plan and fix the time for kids.
5. Take regular breaks:
Breaks are important to energize yourself and maintain a good focus. As a working moms, you must take regular tea/coffee breaks.
6. Dedicated work hours:
Dedicated work hours can lead you to the completion of tasks faster. Every working mom must have dedicated work hours in their routine. During these hours, you will work without any interruption.
7. Learn to delegate:
Working moms must use their children as delegates when they are grown up. You can teach them how to use a washing machine. They can also learn basic cooking and help you.
8. Trading time wisely:
Time is very valuable for working moms. You must learn to trade it. It is not necessary to do laundry once a week and put a few hours there. You can adjust it in daily cleaning and use the weekly time for other work.
9. Learn using the Internet:
Every working mom must know how to do certain tasks on the Internet. For example, doing grocery shopping may cost you 2 hours outside the home. But you can do it online.
10. Managing tasks online:
Suppose any mom can do their task remotely. She can bring a small amount of work at home. She can keep doing those in her leisure.
11. Sayin "No":
Refusing people is also a skill. Especially someone busy like a working mom must know to say no and avoid unnecessary gossip.
12. Paying bills:
Paying your electricity or gas bills often consumes a huge time. Working moms often stand in queues for hours and waste time. Rather, you should use the Internet to complete these tasks.
13. Managing kids:
Working moms must be experts in managing kids. You must train their kids to travel in school transportation. In fact, you must not waste time nagging behind kids.
14. Simplified meal plans:
You must avoid the recipes that are critical and time-consuming. Simple and healthy food should be taken. If necessary, you can order food online to save time.
15. Stress control:
The busy schedule of working moms can make them mentally stressed. To live a sound life, you must relax for a few hours weekly.
So far, mentioned tips can help working moms manage their time.
Verdict
Time management skill is a must for moms. Especially the moms who have a very busy schedule must know time management. To maintain a balanced life, this skill is very essential. If you fail to manage your time, the whole family can suffer.
You must be careful and wise about your time management. Mentioned tips can be followed to simplify time management.