Education
Advantages and Disadvantages of Using Facebook: Explained!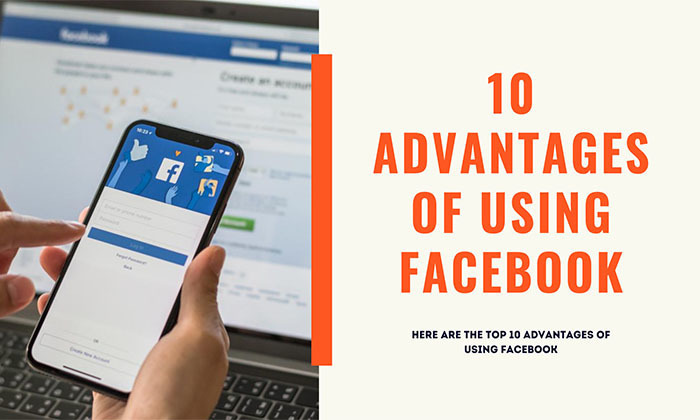 If your discussion is related to SMM (Social Media Marketing), it is impossible to ignore Facebook. No brand wants to stay out of the phenomenon caused by Mark Zuckerberg's company.
However, Facebook has not only advantages but also some disadvantages. Among the main advantages of using Facebook and disadvantages of Facebook are the possibility of connection with people worldwide and the addiction that it can generate in users. Let's dig a little deeper!
10 Advantages of Using Facebook
Today there is a great variety of social networks of all types and for all uses. We must know the most important social networks, that are not all the same and that they have a different purposes or ways of working.
That is why it is essential to know the advantages and disadvantages of all of them to know which ones may not be of most interest to our business. Here are the top 10 advantages of using Facebook for students:
1. It's free:
To access Facebook, it is only necessary to have a computer or a mobile phone and an Internet connection. Although these items can be expensive, the platform itself is free, making it easy for many people.
The free status of Facebook makes it possible to democratize the content that is published there. Information consumers can access a large amount of data categorized according to the interests of users.
2. Provides the possibility of connection:
Thanks to the great scope of this application, Facebook allows connecting with very diverse people around the world. Likewise, it is also possible to connect unknown people who have characteristics in common.
3. It is a fundamental tool for entrepreneurs:
Being one of the platforms with the most significant number of registered users globally, in recent years, Facebook has become a handy tool for entrepreneurs of any field, especially for those who are starting their projects. The platform offers the possibility of publicizing a product or service thanks to the high visibility it provides to its users. It is possible to reach the ideal consumers quite quickly, and show up to them on time.
4. Personal compilation:
Although you may not have realized it, Mark Zuckerberg's invention functions as a album/journal. Also, introduced the option of videos?? (In recent months the opportunity to broadcast live has been gaining strength), something that is establishing itself as a compelling alternative to photographs.
5. Make contacts:
Without fear of being wrong, Facebook is the most powerful social network. You can use it to get in touch with your family, friends, and co-workers, or study, and at the same time to make friends with new people. It is an excellent way to reconnect with those people with whom you stopped talking for some reason. (Example: classmates). The majority of people who have access to a computer and the Internet have a Facebook profile.
6. To do business:
When talking about business, Facebook is one of the world's largest sites where you can find people interested in your products and services. Anyone or company can take advantage of Facebook to reach their target audience and cultivate relationships.
It is an essential aspect because of thanks to this connection. It also opens the possibility to establish strategic alliances with professionals and companies that are part of your market niche, increasing your brand's visibility. It will help you find new prospects and customers if you use it correctly.
7. Video chat option:
Facebook recently implemented the video chat option thanks to the alliance it established with Skype. Now anyone can make video calls by installing the Facebook application for this purpose and improving contact with their family, friends, prospects, and clients.
8. Be up to date with information and news of interest:
Facebook is a social network that works in real-time, and it is one of the best sources to be updated with the latest news and relevant topics.
One of the advantages is that most relevant news "goes viral" on Facebook; for this reason, it is so easy to find out about any event quickly.
It is an excellent method to drive qualified traffic to your blog because bloggers and people interested in your content can subscribe to your updates and be the first to know every time you post something new.
9. The latest news feed from your contacts is regularly updated:
Real-time update of all new notifications from your connection. Also, one of the functions that users appreciate the most is the reminder of friends' birthdays saves many discussions.
10. Integrated chat and video chat options:
Facebook allows you to chat live with your contacts, and since November of last year, Facebook has published video chat, a system that will allow you to make video calls with your contacts.
You may also like to know:
Advantages and Disadvantages of Using Internet for Students
Advantages And Disadvantages Of Informal Education That You Should Know!
Top 5 Disadvantages of using Facebook for students
Here are the top 5 disadvantages of using Facebook for students; you should take an idea from it as a teacher or parent.
01) A disadvantage that can be visible on Facebook is privacy since before creating your profile, you must consider that you want your contacts to see you so as not to have problems in the future.
02) Getting addicted to Facebook can be detrimental to your life. Although it sounds healthy, many people become dependent on this tool, and their only vision of the world is what this social network tells us. When it comes to connecting, you must have control over the time you spend on it.
03) You can control this by not adding strangers.
04) Being tagged in photos that you do not want to show is very difficult to control; one way to eliminate them is by reporting them, but it can take time. It is a very annoying disadvantage.
05) This social network brings online games that become addictive and get better items you must pay for in some cases.
Conclusion
Facebook is the best online leading network globally, but being famous is not "synonymous" with being perfect; In other words, it has its pros and cons.
It can be used as a space for socializing, personal development for professional development, and a channel to find employment. I'm sure now you know well about the advantages of using Facebook and its disadvantages. So if you have any ques, feel free to knock us down via email.