Education
How To Become A Strategist: What Are The Steps You Have To Follow?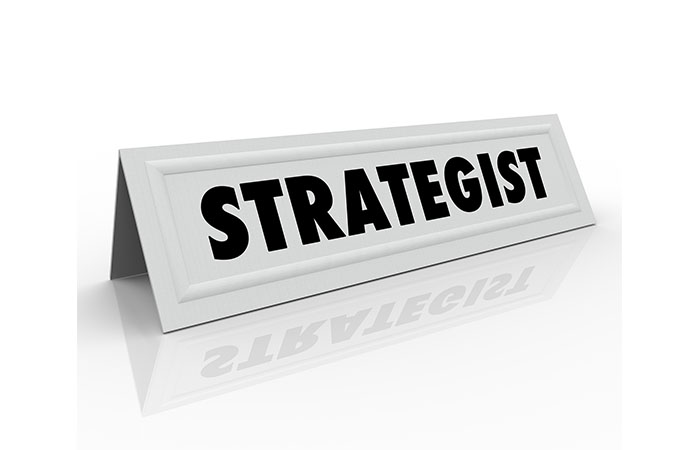 A strategist is a specialist who creates and executes plans and programs to assist businesses in achieving their objectives. A strategist often comes from a business, economics, or other decision-making-related background.
Understanding the procedures involved in this process is useful if you're interested in becoming a strategist.
This article includes information about how to become a good strategist and the facts necessary to grow a career in this field.
How Can I Train Myself To Be A Strategist?
With an appropriate mindset and proper practice, any mind can be trained to think like a strategist. The methods of training yourself to become a strategist are:
Ask insightful questions.

Think about opposing viewpoints.

Embrace Formal Training.

Research newly innovated strategies. 

Observe and consider.

Think distinctly about implementation and maintenance.
By following the mentioned methods, proper training as a strategist can be taken. 
How To Think Like A Strategist?
There is no alternative to thinking like a strategist for becoming a good strategist. Generally, strategists need to go through a very complex thought process before taking any decision. Because their decisions can incur a destructive loss at times.
Some essential factors that will enhance anyone's thoughts like strategists:
Recognize the core strategy procedure.

Be Inquisitive.

Practice Visual Strategy.

Link business outcomes to challenges and opportunities.

Create Your toolbox.

Develop The Ability To Understand Drivers.
These are the points that will enhance your ability to think like a strategist. 
Is It Hard To Become A Strategist?
Yes, choosing strategy as a profession is often challenging. There are some reasons that make this profession hard.
Firstly, a degree in Business or a related field is required. Then a good knowledge about the economy of that market is to be sketched. The market conditions change very fast. So, keeping oneself updated as a strategist is a must. 
Quick and efficient decision-making skill is highly required in this field. Sometimes, a silly decision can incur a massive amount of loss. These can be very frustrating and depressing in this career.
What Qualifications Do You Need To Be A Strategist?
Every profession demands some particular or minimum qualifications. The general qualifications you need to become a strategist are:
Obtain a bachelor's degree in business, economics, or a closely related subject.

Gain experience in the industry you wish to specialize in.

Keep abreast with developments in your industry.

Exceptional analytical and problem-solving skills.

Master statistical methods and modeling.

Ability to think creatively and come up with new ideas.
The mentioned qualities are needed to be a strategist. But again, not all strategists succeed on the same level. There is competition between strategists. Some are tagged as master strategists, some good, and some below average. 
Bigger questions may arise like, how to become a better strategist or how to become a master strategist. There are some tactics you need to follow in order to become a master or better strategist. These are:
Choosing to Take a Strategic Approach.

A central location to plan from.

A Clearly Defined Objective / Mission / Long Term Goal.

Wise thinking.

Risk Evaluation.

Resource Management.

Making Decisive, Successful Decisions.
These factors may lead you to be better, even a master strategist. 
Read More: How Long Does It Take To Become A CEO: Is It Possible At A Very Young Age?
What Are The Best Jobs For Strategists?
Becoming a strategist paves you to a lot of professions. The most popular careers a strategist can choose are as follows:
Credit Analyst.

Industrial Production Manager.

Corporate adviser.

Risk Management Specialist.

Bill and Account Collector.

Revenue Agent.

Auditor.

Tax Preparer.

Loan Officer.
These are the best jobs any strategist can choose to grow their career. All these jobs are well paying and respectful. 
What Should Strategists Avoid?
To become a strategist, you need to focus on a few factors. It is very important to know what you should do, and what not. Proper planning and distinctions between Dos and Don'ts are very necessary to succeed in this career. 
Things to avoid as a strategist:
Time-wasting strategy.

Lack of differentiation.

Confusing strategy with budgeting.

Jargon overload.

Ignoring human capital.

Being stuck in a previous loss.

Copying ideas. 

Not being updated. 
These points must be kept and mind and ignored well to shine in any strategy profession. 
Does Strategy Pay Well?
Yes, careers in strategy pay handsomely. Corporate strategy checks out productivity, financial, and market trends to assist organizations in succeeding, and expanding. Because they let the businesses create a framework for long-term financial stability initiatives. And of course, these positions pay well.
The average Strategy compensation for an associate is roughly $78,228 per year, with a maximum of $402,932 per year.
FAQs
Was Steve Jobs A Strategist?
Steve Jobs can be considered a leadership strategist. When it came to strategy, Steve Jobs sometimes got it incredibly right and other times completely wrong. The growth of Jobs as a leader and strategist throughout his entire career is examined.
Verdict
Strategy as a career is excellent, as well as challenging and complicated. The competition in this field and risk assessment must be kept in mind before choosing it as a career. 
The pay scale of a strategist is handsome. Alongside, it provides a respectable position in society. Still, becoming a good strategist is very difficult.