Education
15 important qualities of a good teacher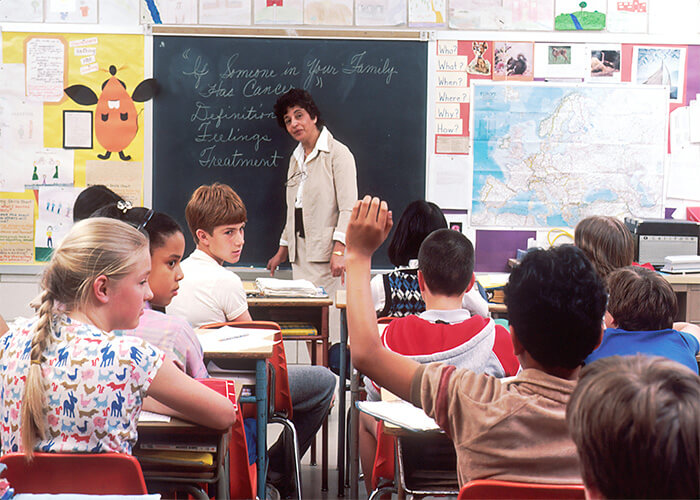 Teachers are the most important role models and mentors for students. And only a good teacher can make a big difference that moves a student's life towards its best. However, only a good teacher with great qualities can leave a remarkable impact on a student's career.
Working as a teacher is never easy. As you have the responsibility of the nation's future you must be very attentive to your duty. So, if you are just about to enter your teacher hood or want to improve yourself as a good teacher this content is absolutely for you.
Now, want to know what are the most important qualities of a good teacher? We are here to help you out. Just go on reading and you will know them all.
Here you go.
Good Qualities of a Teacher
01. Patience
Among all other qualities, patience is the most important one. While teaching in a high school or middle school it's very normal students might do some unexpected activities. But you have to deal with the situation with the utmost patience.
Because your students will learn from your actions. If you freak out and fail to sort out the mess your students will not conceder you as a good teacher.
02. Good Communication
To maintain a healthy relationship between teachers and students good communication plays a vital role. Your students must feel comfortable sharing their problems regarding the lesson. Good communication helps a teacher improve his teaching skills as well.
Besides, communicating with parents, administrators, guidance counselors, and colleagues is a great idea that can lend you great help to improve.
03. Professionalism
Being a professional is a must. It's important to be free with your students but never mix up between personal and professional life. Your students must know their limits while sharing their problems with you.
Be as comfortable as possible but regarding the study and related facts only. Students must not interfere in your personal life. Your goal should be being as professional as possible.
04. Study Plan
Prepare your study plan at the very beginning. A study plan can help you make a good preparation for the upcoming lessons. Make plans for every week about what lessons you are going to work on.
This strategy can give you a clear idea about what you will do on each class. Besides, it will help you a lot to give your best performance in every class.
05. Consistency
Being consistent with your students is a good quality. Treating every student equally will increase the satisfaction and trust of your students towards you. However, if you start favoritism and your students understand it, soon they will lose respect for you.
06. Listening
Listen to your students more often. Take their feedback to know if they have any requirements. It's not important that every student will like the way you teach. So, let them speak and take their suggestion.
Call for parents meetings to get to know about the parent's opinions too. It's a great help to improve your teaching method.
07. Emotional Detachment
Well, it sounds a bit cold but it's really very important. Don't get overly emotionally involved in every single thing happening in your classroom. Let your students come to you and seek your help.
If you interfere in every single thing and shout at them your students will start disrespecting you soon. So, maintain your space and keep everything non-emotional to get through the problems.
08. Creativity
It's a good idea to come out of the boring textbook and do something creative to hold on the excitement in your classroom. Make the lesson relatable to real things that your students can relate to. This can make the class interesting.
09. Passionate
To be a good teacher you must be passionate about your profession. Otherwise, it's going to be very tough to end up with a good experience. You must enjoy what you teach.
If you are not interested in your job you can never expect your students to show interest in your class. A good teacher must teach the lesson in a way that can make students more interested in the lesson.
10. Practice
Your students will believe in your teaching through your performance. If they find you nervous your students will slowly lose trust in your ability. Make sure to practice what you are going to teach.
Not to mention, it's never possible to remember what you learned 10-20 years ago. So, practice is the only way that can prove to you the best-known one in front of your students.
11. Motivating Students
A good teacher can be the best motivator. When a student does bad in the examination and loses all his hope to do better, a good teacher can work magically to remotivate that student and do better soon.
12. Learning New Things
With the fast-developing technology, the study method is also changing in various new ways. A good teacher has to be always updated about that new thing he needs to works with next.
And to be that much updated you must continue learning new things. Learning is a continuous process and to be a good teacher you have to learn every possible thing related to what you teach.
13. Understanding
Understanding the student's ability is an important thing. Every student does not have the same understanding power. So, you have to find out the easiest way that makes everyone equally understand your lesson.
14. Respect
There is a say 'Respect to get respected back'. A good teacher applies this strategy to the students. If you respect your student and be polite to them, they will do the same to you too.
15. Seeking Help
Never hesitate to seek help from anyone around you to gather information about your duty. Various people can help you with a variety of information. So seek anyone's help u find and work more to be a perfect teacher.
Final Thoughts
Reading the entire content, one can definitely have a clear idea about what are the qualities of a good teacher. So, practice the qualities and be the best teacher of your students.
Thanks for being with us.