Fashion
Why Are Golden Goose Sneakers So Expensive: Reasons Explained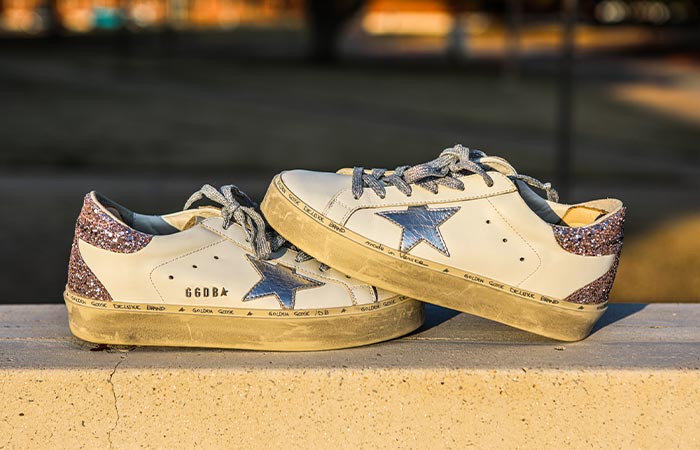 Golden Goose Sneakers are always on the customer's favorite list due to their high quality. lavishing design and comfort. But most of the time, people face difficulties to afford these amazing shoes, because of their expensive prices.
This writing aims to discuss why golden goose sneakers are so expensive. Golden Goose sneakers are all handmade and use premium calfskin leather that is very expensive. The designers carefully select the leather and always ensure the best quality.
So, you see, the whole process seems very long and quite labor intensive. Such perfect craftsmanship requires high price money.
All About Golden Goose brand
Golden Goose brand started its sneaker journey in Venice, Italy, in 2000 and made it long to the skate parks of LA, U.S.A. This introduced people to elegance with unique craftsmanship and design.
There are so many collections for men, women, kids, and gifts. Everything you get here is full of life, with tradition and heritage.
The creators of the brand took ideas from experience and reality, then made new styles for footwear and accessories. You can say, all of their designs and collections are inspired by your memories and ideas.
Why are golden goose sneakers so expensive?
Golden Goose sneakers are very luxurious footwear in terms of uniformity and precision. These are the perfect combination of beauty, quality, and finance. So, such wonderful products must be worth the expense.
There are some simple factors behind the expensive price of Golden Goose sneakers.
Handmade sneakers
This is the most fundamental reason for an expensive price. The main materials are mainly collected from Italy. The makers process all the things manually, such hard work must be paid off well.
Sneakers with Distress process
The distressing process of the shoes makes the price very expensive. Skid marks are the most popular pairs in the market among the shoes.
Uniqueness Paid off
Golden Goose sneakers are expensive for their uniqueness. You can't even identify the same pair. These distressing handmade shoes are as unique as human fingerprints. To bring such uniqueness, the makers must be very careful and strategic to make the lavishing unique design on sneakers.
Material
These sneakers are made of calfskin leather. Due to this material, these sneakers cost a lot.
Another expensive material that is used in forming such amazing sneakers, is premium cotton lace. The manufacturer doesn't use this lace in the whole shoe, they just put it on the top of the shoe, because some users don't find the lace comfortable.
You can say, they use it to make the sneakers look good.
The brand also use high-quality loopback cotton toweling to design the interior portion of the shoe. Such equipment regulates the temperature of your feet when you wear them.
So you see, golden goose sneakers come up with some high-quality materials to serve the users with the highest comfort, uniqueness, class, and design. Consequently, it is quite normal to tag expensive prices for such a service.
Height
If you worry about your height, golden goose shoes are here to save you. They are made of high soles, which can give the users a tall height.
They are called high heels sneakers.
For such comfortable high soles, the shoes need more materials to ensure efficient structure and height. Thus, these sneakers use a lot of materials, they cost more to make.
Collection of New design
Every year, golden goose sneakers come up with Skid marks and are the most popular pairs in the market among the shoe designs, art, comforting features, and distressing year to year.
These features make the pairs expensive because the customers get to use new collections and the makers have to create new designs each year.
Why would anyone buy Golden Goose sneakers?
Golden Goose sneakers are the best stuff to invest. Because of the features of the best quality compositions and craftsmanship, also introduce people to different designs for men, women, and kids. They offer accessories along with shoes. So, it seems like buying golden goose sneakers is a worthy expense for anyone.
Top 5 Golden Goose sneakers
For your concern, here you go with the examples of the top 5 Golden Goose sneakers:
Super Star Golden Goose Sneakers
These sneakers were launched in 2007, and are best known for their phenomenal, dashing design, patterns, finishing, and advanced materials. You know, these are the first ever sneakers to be featured with stars of this brand.
They are completely fitted for casual circumstances and also an all-time favorite for comfort and multi-purposeful attributes.
Dad Star Golden Goose Sneakers
The dad star shoes of this brand are the second favorite collection for users. Once you see this, you will just fall in love with the suede-upper accented and mesh with the signature star emblem design.
There are several prints available in this collection, such as leopard, classic beige, etc. You can wear these with your workout outfit or your flower power feminism attire.
Sky Star Golden Goose Sneakers
These pairs of sneakers are inspired by American College culture, especially the 80's basketball-themed scene.
The main material of these shoes is authentic napa leather. The design features a signature type star and golden goose signature on the upper portion of the shoe. In one word, a perfect example of elegance and style.
Mid-Star Glitter Golden Goose Sneakers
These footwears are the most glamorous pairs of the Golden Goose Brand. They go with every outfit, simple, formal, or casual. Their amazing design includes a start that shapes like a tongue and a toe box that fills with glitter. Such gorgeous shoes can be great for any night function or outing.
The materials like leather and synthetic elements are combined to ensure comfort and well support for your feet.
Slide High Top Golden Goose Sneaker
Slide-high sneakers are a kind of classical twist in the styling option of the Golden Goose brand. They are designed with a stylish curve along with a rubber console, padded collar durable canvas that adds extra comfort.
The use of laces and the sock absorbent midsole bring about an interior fusion in the shoes. The black-to-orange combination of colors makes them the perfect choice for gym or street walks.
Read More: 10 Best Wedding Gift Ideas for Wealthy Couples (2023)
What are the most expensive pair of Golden Goose?
The most expensive pair of Golden Goose is the Slide high-top sneakers. They cost $1,447, and feature the materials like 100% original calfskin leather, fabric, Swarovski crystal, and rubber sole.
How much is the Golden Goose brand worth?
The Golden Goose brand is worth $400-$700 on average. But if you look at the statistics for 2022, you can see the net worth has reached 500 million euros, which is 88% more than the year 2020.
FAQs
Is Golden Goose waterproof?
Yes, Golden Goose sneakers are waterproof. So it can be a safe choice for traveling, hiking, and other adventurous tours. The materials used in these shoes are highly waterproof.
Are Golden Goose sneakers uncomfortable?
No, Golden Goose sneakers are not uncomfortable. This brand always thinks about the comfort of the users, then designs the shoes to ensure the utmost comfort and support for the feet.
Can I wear no socks with Golden Goose?
Yes, you can wear Golden Goose sneakers without socks. The midsole made with additional materials makes the shoes highly shock absorbent and temperature regulation. So no socks wear is on.
Verdict
Golden Goose branded sneakers are gaining fame since they started their footwear journey. People mostly prefer them due to their unique design, comfortable pattern, and high quality.
Though the prices are high, the users understand why they are expensive and worth it. If you want to try on Golden Goose sneakers, go to the website, choose one, and buy them. Before that, be sure, you can afford them.