Career
How to Become a Baker with No Experience: Things You Should Do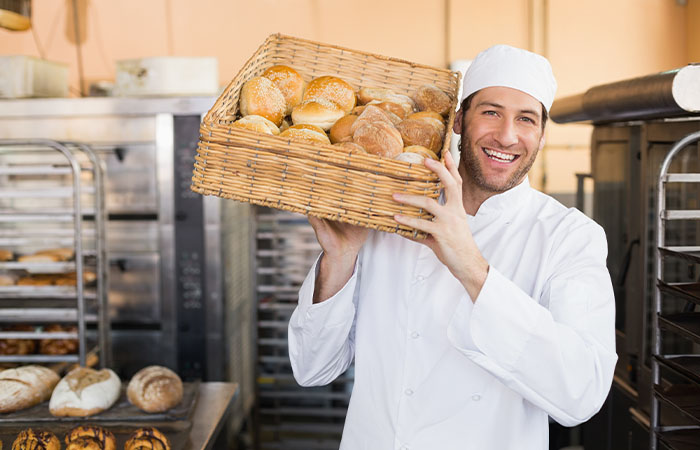 Being a baker requires a lot of practice and patience. You don't necessarily need to have previous experience to become a baker. One thing which is the prerequisite of becoming a good baker is practice! If you invest yourself wholly in this art, none can stop you to reach the peak of success. 
To make your path easier, we have covered how to become a baker with no experience! Go through this!
Are Bakers in Demand?
Bakers are always in demand because people will never stop loving bakeries. Cakes are the most essential element during celebrations. Baked items are related to our day-to-day life. Their thirst for baked food is met only by bakers.
Baking is an art and people admire this art. They always keep some sort of baked item in their house. That's why bakers always go through a busy time. 
Can You Make a Living as a Baker?
Yes, you can make a living as a baker. As long as individuals enjoy eating freshly baked cakes, baking will remain a reliable job. One of the most important aspects of the culinary world is baking. Dessert and bread are essential components of any meal. People look for ways to savor good baked items.
If you know how to grab attention, make your bakery work creative and ensure good quality, your business will boom. You don't have to worry about living once you know how to run your business.
What Skills Do Bakers Need?
Bakers need a good number of skills. It's a tricky profession. You have to maintain a lot of things to keep you ongoing. We have listed a few important skills that bakers need!
Organizing

Punctuality 

Creativity

Staying updated about trends and demands

Communicated teamwork

Focus on the details

Artistry with taste and texture

Perseverance

Hard Work

Very good hand-eye synchronization

Patience under Stress
How do you get started as a baker with no experience: simple steps
Practice always goes above experience. If you want to get started as a Baker, follow these simple steps. These are very easy! Try to implement it from today.
Join offline or online baking courses 
Joining offline or online baking classes is something you should think about if you desire to become a baker. You can use a number of great tools to get assistance from experts who are skilled at passing along their knowledge to others. Everything from the core concepts of baking bread to the finer points of designing extraordinarily unique cakes can be learned through this.
Apply as an assistant, trainee, or apprentice of a professional baker
A fantastic approach to learning and developing your portfolio is to take on an apprenticeship in the baking sector. You will learn safe food handling procedures, cleanliness, and other fundamental baking techniques during your apprenticeship. You will have the opportunity to stick to these abilities. It is because you will assist a skilled baker until you feel confident enough to assume more responsibility. 
Additionally, by forming connections with so many other bakers, you will discover that when the moment arises to move on, it will be simpler for you to get employment as a professional baker.
You need to put effort into and be committed to succeeding in this industry. It's best to begin by studying the many types of baking if you intend to become a professional baker. Select the type of baking that interests you once you've mastered the craft and obtained some practical experience so you can follow your ideal job!
Read More: Why Is It So Hard To Find A Job With No Experience: What Should You Do?
It's crucial to keep learning new things and to make sure you're remaining current. There are constantly fresh approaches to baking, like boosting flavor or using healthier ingredients. You can accomplish this by taking extra classes, and if you wish to formally recognize your abilities, you can obtain a certification.
Open a social media page or apply for jobs
Upload your bakery work and try to give as much information as possible. Design a menu. Try to increase the reach of the page. Fix a good delivery agency. When your page will get good shares, customers will start approaching you. Try to be helpful and show warm behavior with them. Listen to their queries and let them place orders.
If you wish to do any job, make your CV and apply in various bakery shops. Once you get called for an interview, prepare yourself prudently.
How long does it take to learn baking?
It usually takes 3 months to learn baking. Baking is not limited to cakes only. There are thousands of desserts, savories, bread, and whatnot. On average, you will grasp the basics of baking. To polish and master it, you have to constantly practice.
You can actually never stop learning baking. Because constantly people are coming up with new recipes. A professional diploma might take 6 months to 2 years.
Why is it hard to be a baker?
It's an extremely mentally and physically taxing job. You spend the entire day using your hands, so if anything goes wrong, it was your fault for doing it incorrectly. Therefore, you must remain focused at all times when working. Sometimes, in spite of putting in all the effort, you don't get the desired result. 
You have to constantly brainstorm to come up with new creative designs and items. You have to be patient with baking and customers. That's why it is hard to be a baker like every other profession.
Frequently Asked Questions (FAQs)
What is the lowest salary for a baker?
The lowest salary for a baker is $10.97 per hour. However, it depends on experience and varies from bakery to bakery. The typical hourly wage for bakers is $14.31.
Is baking a stable career?
Baking is a stable career if you are doing good in your business. Running and being stable in any sort of business is never easy. Baking is no exception because you need to invest time, effort, and money.
Is baking a skill or talent?
Baking is the combination of both skill and talent. You just need to practice to polish your skill and talent. It will level up your baking game.
Which course is best for baking?
International Culinary Education provides the best course for baking. Side by side, there are Magnolia Bakery, Culinary Institute of America, Dominique Ansel, etc.
Can I start a baking business at home?
Yes, you can start a baking business at home. You just need all the necessary equipment, marketing strategies, and delivery service. In this era, people mostly start their baking business at home.
What is the average age of a baker?
The average age of a baker is 40 years old. Nowadays, 17-25-year-old people are also indulging themselves in this art.
Verdict
Now you know how to become a baker with no experience, start practicing. It's a time-consuming process. But it will get better with every day. The key to success is not giving up, being passionate and hard work. If you are able to do so, experience doesn't matter as practice transcends experience.
Good luck on your journey!
Read More: 
Starting a New Career at 30 with No Experience: The Ultimate Guide
How To Get A Job Without Internship Experience: Some Killer Tips